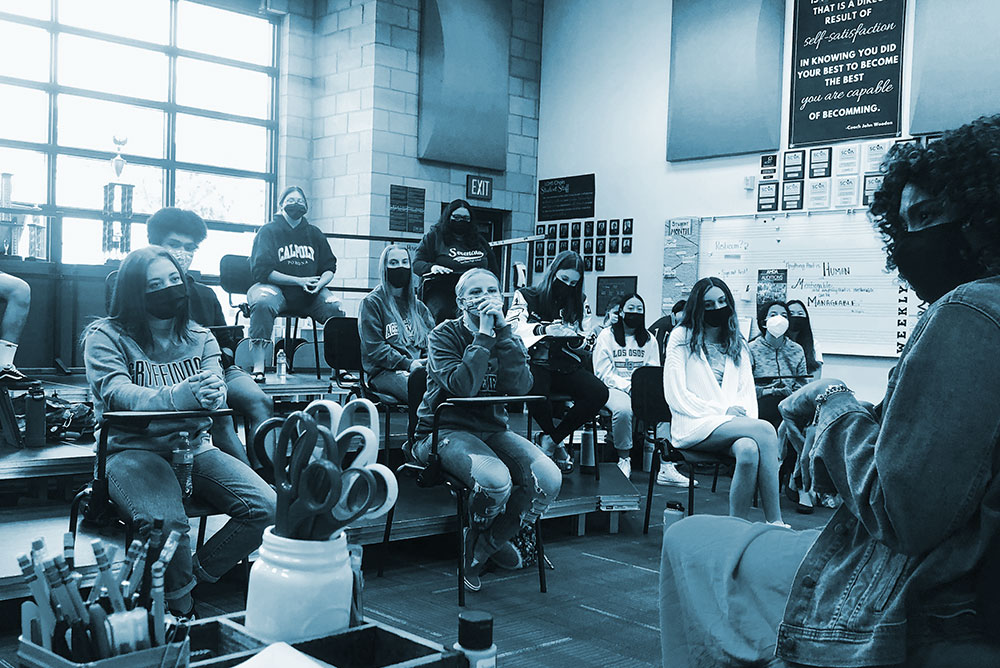 Covid-19 presented unique teaching challenges for arts instructors during the 20/21 school year – particularly in the performing arts. Virtual classrooms, social distancing, mask mandates, and other restrictions kept teachers and their students apart, and far from their typical teaching methods. RCCAAF assisted with addressing this challenge through their School Arts Sponsorships which funded projects and equipment to continue engaging arts students.
Below are the instructors' comments on what receiving the $1,000 Program Sponsorship meant for their program.
Etiwanda High School Drama Department – Student Written, Directed & Performed Virtual Production
"We were able to create a film program by purchasing gimbals and film accessories that turned each student's cellphone into a micro-film-studio. We also brought in a guest artist to lead a writing workshop and were able to purchase costume and makeup items as well. It enabled production(s) to happen that otherwise might not have. Specifically, the film pods and one-person projects that the students created. This enabled a student to participate in all the production roles from writer, director, actor, designer, and editor. More than any other organization, Rancho Cucamonga Community and Arts Foundation has been there for us consistently over the past several years and we are very grateful. Even more impressive, during a time where arts students were down (canceled productions and events) you lifted them up." – Christian Kiley, Drama Instructor
Los Osos High School Choirs – Series of Guest Artist Speakers
"We were able to hire a series of guest speakers to visit our classes via Zoom to each them about their careers in the music industry in a variety of positions. Our speakers included a professional Composer, two professional Opera Singers, a College Professor, Voiceover Artist and a Broadway Performer. Our students were given the opportunity to hear from and ask questions of professionals about their career paths. Our culture and school system typically actively discourages our students from pursuing careers in the arts. For many of them it was their first-time meeting someone who has successfully earned a living as a musician or artist." – Bethany Encina, Choir Instructor
Alta Loma High School Choirs – Equipment Cart for Outdoor Instruction/Rehearsal
We used the funds to supply the rolling cart, instrument cables, and extension cords to power my rolling teaching station. The County Dept. of Health will still not allow us to sing (or play any wind instrument) inside of our classrooms. Since we have returned to our hybrid schedule, I am teaching my choir classes outside from the rolling cart, a portable speaker (funds from a sponsorship from RCCAAF a few years ago), and balancing a laptop on top of the piano so that I can still be on ZOOM with those at home. Those in person are to sing outside, masked, 6 ft apart. There were 2 different outdoor locations we rehearse in depending on the day of the week. It has been my most difficult of my 28 years but having the equipment is making it possible. – Sheri Nelson, Choir Instructor Information on School Arts Program Sponsorships for the 2021/22 school year will be available in August 2021.