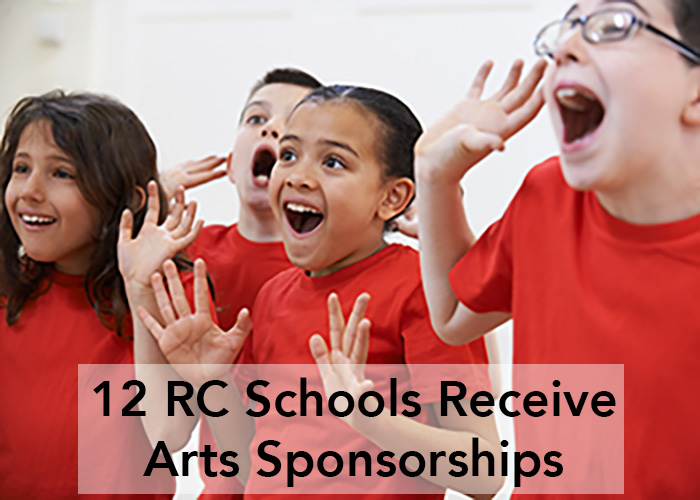 The Foundation is pleased to announce that twelve local schools have been awarded a $1,000 Sponsorship to support a variety of arts programs, projects, equipment, and supplies. Since 2018, the Foundation has offered sponsorship support to local high schools. In 2021, the Foundation included eligibility to middle schools, and this year, it was expanded to all schools from elementary to high school. Arts programs and projects included a variety of both visual arts and performing arts.
This year's School Sponsorships were awarded for the following:
Alta Loma High School – Joseph Calderon, Band Director
For new percussion instruments for the Alta Loma Entertainment Corps
Caryn Elementary – Misty Cooper, Drama Program Director
For new lighting and sound equipment for the Drama Program
Cucamonga Middle School – Audry Imsen, Drama Teacher
For production cost support for musical theatre production of "Willy Wonka, Jr."
Cucamonga School District – Cami Howard, Enrichment Art Teacher
To support the creation of a "Rock River Project" (student painted) at two school locations
Day Creek Intermediate – Nick Zajicek, Principal
To help pay for costumes and sets for the Peter Pan, Jr. Theater Performance
Dona Merced Elementary School – Catherine Tamayo, Principal
For funding of PBIS recess art activities
Etiwanda High School – Heather De Guzman, Dance Teacher
To help pay for Showstopper Application Fees (Dance Competition)
Etiwanda High School – Christian Kiley, Theatre Director
To help with production costs for the student directed fall play, "Alice in Wonderland"
Etiwanda High School – Sheri Nelson, Choir Director
To help pay for EHS Choir participation in Disney's Imagination Campus Performance & Workshop
Grapeland Elementary School – Brett Beitler, Principal; Nira Mejias, PTA President
For art supplies for the Lunch Time Art Program
Vineyard Junior High School – Eric Evans, Director of Music
For Vineyard Junior High School's Orchestra to purchase an upright bass
Vineyard Junior High School – Jenna Vandegrift, Theatre Club Director/Teacher
For Theatre Club's licensing rights for the 23/24 theatrical productions.
The RCCAAF School Arts Program Sponsorships are offered at the beginning of each school year for projects or programs to be held or completed within the school year. Learn More